by GP Green Energy Systems
Biogas
In 2018, GP Energy partnered with the eminent players from Poland and China in the field of Bio-Methanation of wet organic waste from biomass and sewage sludge.
It carefully 'Indianised' the technologies to suit the Indian market. The partners are already working in this field for past 10-15 years having hundreds of successful installations in Asia, Europe and Africa.
Biogas Plant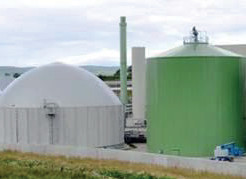 Biogas is a gaseous fuel, it is the mixture of various gases produced by break down of organic matter by bacterial action in absence of Oxygen. Biogas mainly comprises of valuable Methane gas ( 50 to 70%) Carbon Dioxide (20 to 40%) and traces of Hydrogen Sulphide, Nitrogen and Oxygen having calorific value of about 21,000 Kj or 5000 Kcal per cubic meter of gas. The plant lowers Methane emission by entrapping and using as fuel.
Digestate sludge comes out in slurry condition and is an organic manure of high quality - completely natural and free from harmful synthetic chemicals
Process
Biogas plant consists of mainly Feedstock Pre-Treatment system, Anaerobic reactors, Desulphurization plant and gas storage device. The Reactor is equipped with stirring arrangement, heating & insulation facility, feeding & drainage systems, pressure & electrical controlling devices. Feed Preparation is as important activity, where sizing of the solids, pH value and carbon - nitrogen ratio have to be maintained before loading to the reactor, Methane (CH) in gas is produced in four steps:- Hydrolysis, Acidification, Acetic Acid formation and Methanation
Produced biogas is then passed through Desulphurization plant to remove H,S which is flammable and corrosive in nature, present in biogas. HS corrodes the pipeline and equipment and Sulphur Dioxide ( 50,), which forms after combustion of H,S is a harmful gas and pollutes the atmosphere. Hence Desulphurization is a must before any use of biogas. Dry chemicals, Wet chemicals or biological treatments may be adopted for this purpose, depending upon H,S content, biogas flow, efficiency etc. Thereafter clean biogas is stored in a specially designed Gas Holder.