Reciprocating high speed
diesel and gas engines
Horus Energia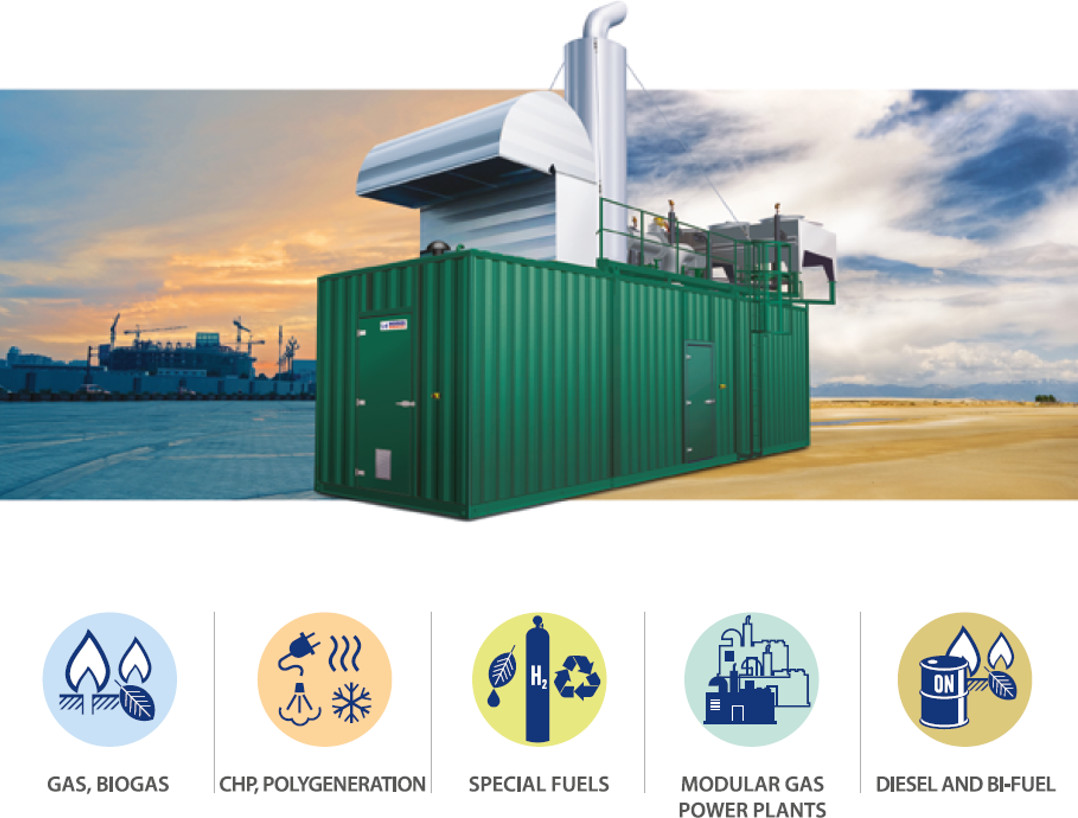 ENERGY SYSTEMS
NATURAL GAS AND BIOGAS
Output range: from 44 kWel to 18 MWel
PRODUCT FEATURES
The key component of a generating set fuelled with natural gas or biogas is an internal combustion engine designed for operation on the specific type of gas. Equipment of this type features high electrical efficiency, reaching even 50%, and long endurance - complete product lifecycle is estimated at around 120000 running hours (15 years). Thanks to the continuous operation capability (some 8000 hours per year), such solutions are perfectly suitable for all entities in need of a stable, economical and environment-friendly source of electrical power.
APPLICATIONS
MANUFACTURING FACILITIES
DATA CENTRES
POWER PLANTS - DISTRIBUTED GENERATION
GAS COMPRESSOR STATIONS
SEWAGE TREATMENT PLANTS
LANDFILLS
AGRICULTURAL BIOGAS PLANTS
USED ENGINE BRANDS: MTU, CUMMINS, MAN, PERKINS, LIEBHERR
INSTALLATION METHODS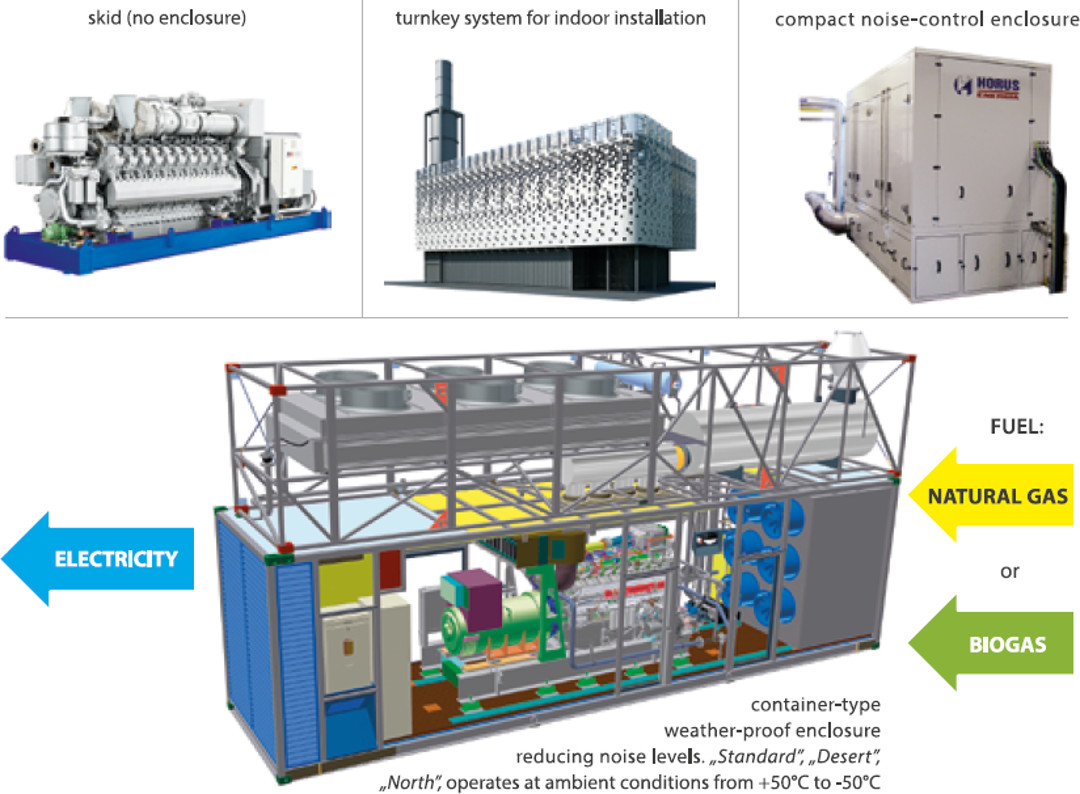 ENERGY SYSTEMS
CHP AND POLYGENERATION
Output range:
from 44 kWel and 63 kWth to 18 MWel
15 MWth
PRODUCT FEATURES
A combined heat and power (CHP) system involves simultaneous generation of electricity and heat. Polygeneration is a further enhancement of this concept, where additional products are generated as well: steam, chilled water, carbon dioxide and others. Total efficiency of such a system may reach even 95%. Our company offers CHP and polygeneration systems fuelled with combustible gases or liquid fuels. Key components of such a plant are: an internal combustion engine (spark-ignited or diesel), an electrical generator, a system of heat exchangers and an automated control system.
APPLICATIONS
COMBINED HEAT AND POWER PLANTS
HOSPITALS
HOTELS
MANUFACTURING FACILITIES - FOOD PROCESSING
SWIMMING POOLS
GREENHOUSES
DATA CENTRES
SELECTED REFERENCES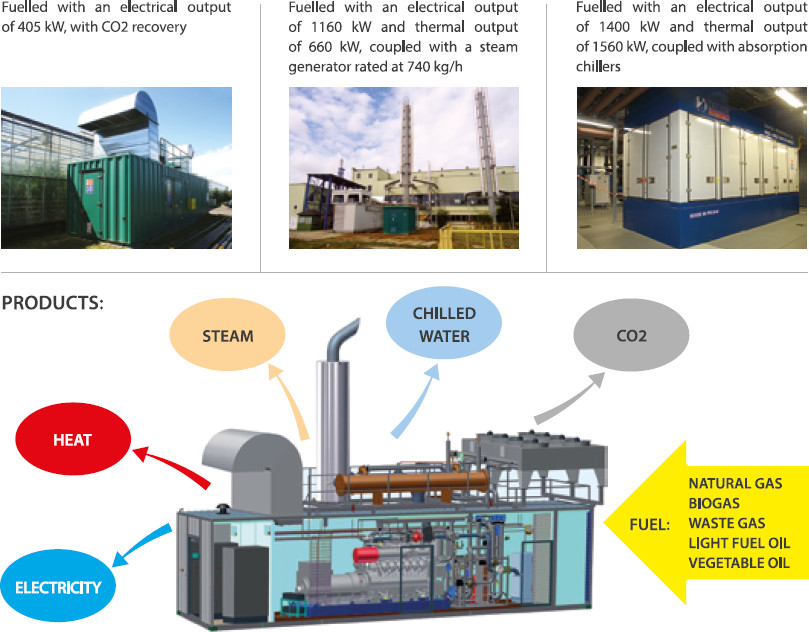 ENERGY SYSTEMS
SPECIAL GASES
Output range: from 44 kWel to 18 MWel
PRODUCT FEATURES
We offer a new innovative and dedicated solution, which allows power generation from gases normally considered waste. Offered equipment is a product of our collaboration with Polish universities and research centres. The innovative solution offered by Horus-Energia allows:
- utilising nearly any combustible gas, including gases with tendency to detonate
- running on several different types of gas at the same time
- ensuring stable engine operation despite very dynamic changes of fuel gas properties (the equipment accepts parameter change rates several times faster than previously used systems)
- fuelling engines with gases normally considered not suitable for engines (due to their very low heating value, such as blast furnace gas) with minimum addition of other gases (like coke-oven gas), thanks to unique process control capabilities.
APPLICATIONS
REFINERIES
COKING PLANTS
GAS PRODUCTION WELLS
MINE METHANE REMOVAL SYSTEMS
CHEMICAL AND PETROCHEMICAL INDUSTRY
BIOMASS GASIFICATION FACILITIES
WOOD PROCESSING PLANTS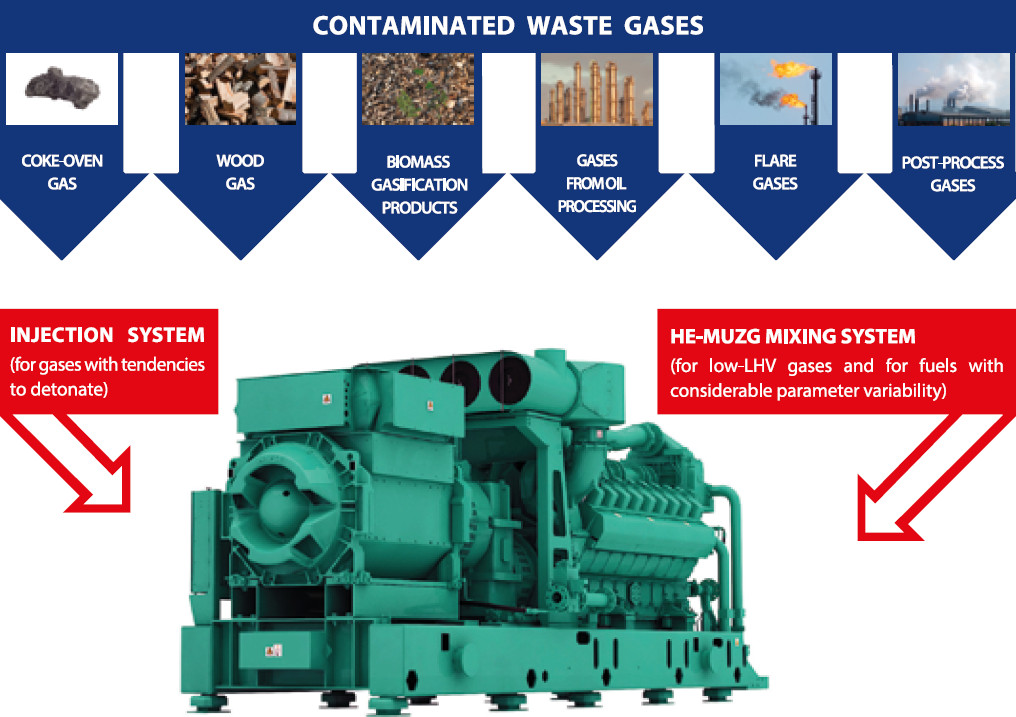 ENERGY SYSTEMS
MODULAR POWER PLANTS
Output range: 10 MWel and more.
Basic modules: 10, 20, 30 and 50 MW
PRODUCT FEATURES
An important advantage of a modular power plant is its easy configuration and adaptability of output to specific customer requirements. Basic components of such a power plant are: containerised engine-generator sets fuelled with natural gas (LNG) or multiple fuels (bi-fuel), containerised main low – and high - voltage switchgears, as well as monitoring and control stations. Additional components indude mobile storage rooms for spare parts and maintenance tools. All components are manufactured at our production facilities, and then subjected to comprehensive testing programmes at a factory testing facility. This enables shorter on-site commissioning and higher reliability. Once the preparatory site civil works are completed and power plant modules are delivered to the site, final assembly and installation does not require much labour - for a 10 MW power plant it takes around 3 weeks. Comprehensive and optimised power plant design allows reducing dimensions of a site needed for its construction and operation - for a 20 MW plant a site of 36m x 72 m is fully sufficient.
Another important advantage of such a solution is its mobility. If, for whatever reason, it becomes necessary to redeploy the plant to another location after certain time of operation, then transport and reinstallation is a relatively simple and economically efficient task.
Equipping individual generating sets with heat recovery modules allows turning the whole plant into a modular combined heat and power plant or a large polygeneration system.
APPLICATIONS
DISTRIBUTED POWER GENERATION
- ENSURING POWER SUPPLY RELIABILITY - IPP
LOCAL POWER (CHP) PLANT
- ENVIRONMENT-FRIENDLY SOURCE OF ELECTRICITY AND HEAT
IPEAKING POWER STATIONS
- HIGH OPERATING DYNAMICS, POWER SYSTEM STABILITY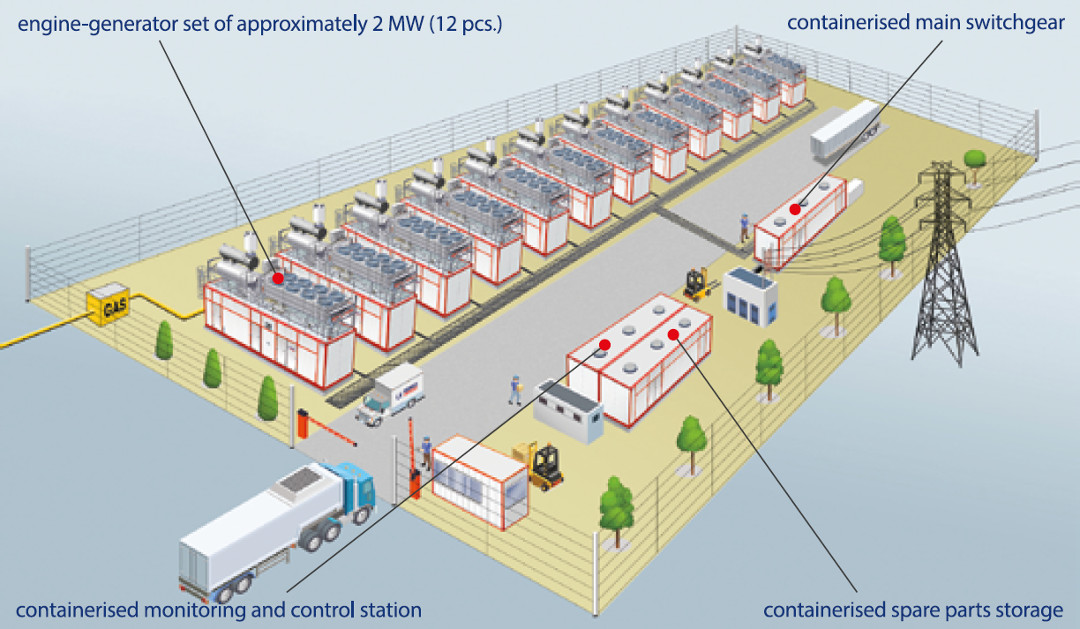 ENERGY SYSTEMS
DIESEL, BI-FUEL
Output range: from 9,5 kVA to 17 MVA
PRODUCT FEATURES
Oil-fuelled engine-generator sets are essential components of back-up power systems for every strategic facility.
Our company is performing specialised installation projects for such equipment, taking into account individual customer needs.
In order to improve economics of genset operation, as well as their operational flexibility, we have developed a solution involving generating sets fuelled with both light fuel oil and natural gas, the bi-fuel gensets. Such a solution also improves security of continuous genset operation. In some countries, where access to gas may be limited or periodically disrupted, the generating sets may operate in 100% on diesel fuel. Operational reliability may be further improved thanks to possibility of utilising gas in form of LNG or CNG, relatively simple to transport over roads, railways or waterways.
APPLICATIONS
RESIDENTIAL AREAS
DATA CENTRES
STRATEGIC TRANSPORT INFRASTRUCTURE AIRPORTS, PORTS, RAILWAY STATIONS
CONTINUOUSLY OPERATING PRODUCTION FACILITIES
STRATEGICALLY IMPORTANT INSTITUTIONS
LOCAL POWER STATIONS-IPPS
INDIVIDUAL CONSUMERS
MOBILE MILITARY UNITS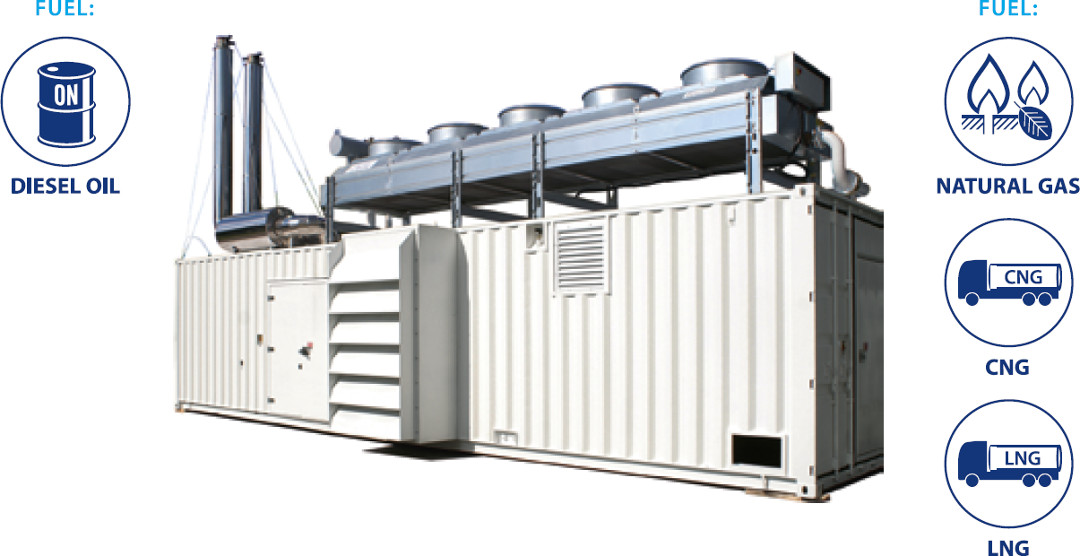 For more info about these high speed engines see here.