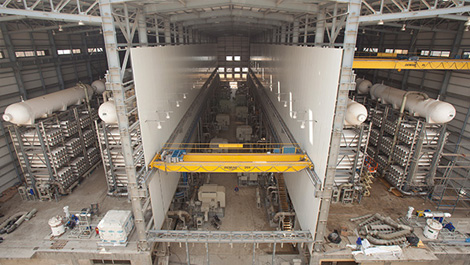 REVERSE OSMOSIS (RO)
As the name suggests, pressure is applied to seawater in order to separate substances like water and salt and thereby produce fresh water. Its relatively easy operation and low energy consumption make it ideal for all capacities - small, medium and large plants.
The first commercial operation of RO dates back to the 1970s. Compared to MSF and MED, RO is a relatively recent technology. RO uses semi-permeating membrane to separate water from the solute in the seawater. In RO, most of the energy is needed to pressurize the feed water.
The seawater desalination by RO system consists of pretreatment system, high pressure pump and RO membrane. The auxiliary units include water intake and effluent systems and power reception and transmission systems.