Reactor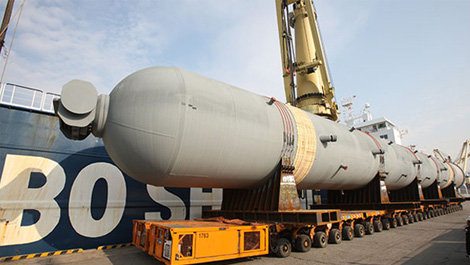 Doosan E&C is fully equipped to manufacture various types of reactors, including the ones made out of vanadium, and ensures customer satisfaction with top-notch quality and competitive pricing.
Reactors are used to mix two or more types of substances or shorten the reaction time and stabilize composition by increasing the density of contact between substances in floating granules, solutions, or chemical reactions.
PERFORMANCE
Weight: Up To 1,500 Ton
Max Length: 100m
Max Diameter: 10m
Max Thickness: 300mm
Material: 2.25 Cr - 1 Mo (W/T SS WO/CLAD)
2.25 Cr - 1 Mo Enhanced (W/T SS WO/CLAD)
2.25 Cr - 1 Mo 0.25 V Modified (W/T SS WO/CLAD)
1.25 Cr - 1/2 Mo (W/T SS WO/CLAD)
1 Cr - 1/2 Mo (W/T SS WO/CLAD)
Carbon Steel (W/T SS WO/CLAD)
Design Code: ASME Section VIII Div. 1 & 2, AD-Merkblatter, PD5500, EN13445, GOST
Licensor: CLG, UOP, Haldor Topsoe, Exxon Mobil, Axens, Foster Wheeler, BP, Shell, Saipem, Ammonia Casale, ConocoPhilips, Toyo, CB&I, Linde, Prosernat, Lurgi, Uhde, KBR, Davy Process, Technip etc.